Voice Pro 12 Premium
Professional Speech Recognition
You talk, your PC types! In cooperation with Microsoft, Linguatec developed the new version of its speech recognition solution. Write, format, navigate or search for information? Just tell your computer what you want it to do. Voice Pro 12 Premium assists you in carrying out routine tasks and gives you more time for other things.
Recommended for professional use: Voice Pro 12 ensures considerably greater efficiency and saves you time when carrying out your office work.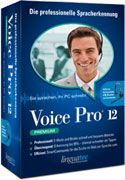 Voice Pro 12 Premium (German)
149,- €
Buy now
Price incl. VAT
Who can honestly say that they type their own texts nowadays?
Transform the way you work with your PC – using Voice Pro 12. Compose your e-mails, letters, reports, protocols and much more using your voice. No sooner said than done.
Here are 8 good reasons why you should use Voice Pro 12 Premium
Three times faster than typing
With Voice Pro 12, you can write as fast as you speak. Voice Pro can keep up with you even at the high speech speed of 165 words per minute. On average, you will write three times faster than you type with Voice Pro 12! Moreover, you won't have to worry about spelling mistakes or typos.
Believe it or not: up to 99 % recognition accuracy
Voice Pro 12 is a reliable aid which will save you time and effort. Thanks to completely new acoustic models and language models, you can achieve an excellent recognition accuracy of up to 99 %.
33 % better than the previous version
Voice Pro 12 has taken a good two years to develop, but it was worth it: Compared to the previous version, Voice Pro 12 achieves 33% better results, i.e. Voice Pro 12 makes 33 % less recognition errors than, let us say, Voice Pro 11 USB Edition.
Comprehensive dictionary
The dictionary included is already capable of recognizing over 1 million word forms. Along with general basic vocabulary, Voice Pro 12 Premium has a comprehensive dictionary from the IT, sports, economy, science/technology sectors. Naturally, you may also add your own words, such as proper names and specialist terms, to the dictionary.
Individual adaptation
Voice Pro 12 automatically adapts to your way of speaking. Particularly convenient: texts that are used frequently may be defined as text blocks – just use the headword, e.g. "default signature", and the whole text block will be inserted in the text – automatically!
Linguistic intelligence
The completely new SpeechCorrect helps you distinguish between words that sound the same but are spelled differently. Just enter the context in a simple dialog box, and the varying spelling of "Paul Smith" and "Smyth's Toy Store" won't be a problem anymore.
Mobile dictation
With Voice Pro 12 you can be productive en route. Record your thoughts or notes effortlessly with a dictation device* and later convert the mp3, wav or wma file (16 kHz 16 Bit Mono) to text on your PC.
* Not included in the package.
Technology for the future
Voice Pro 12 has been developed especially for use with Windows® Vista, Windows® 7 and Windows® 8 and uses the latest speech recognition technologies. This means it will be compatible in the long term.
System Requirements of Voice Pro 12 Premium
Pentium Processor: 2.4 GHz or 1.6 GHz dual core processor or equivalent AMD processor
Free RAM: 1 GB
Free hard-disk space: 1 GB
Windows Vista, Windows 7 or Windows 8 (German user interface)
Internet access for product activation