Voice Pro Enterprise 4.0
Secure speech recognition solution for enterprises
Voice Pro Enterprise 4.0 has been developed especially for use in enterprises. The recognition is done on the company server and can be accessed from any device (PC, Mac, smartphone, tablet).This ensures that all in-house information remains within the company.
The advantages of the server solution Voice Pro Enterprise 4.0 at a glance:
Speaker-independent
High recognition accuracy
Dictate anytime and anywhere from any device
High data security
No dependence on outside servers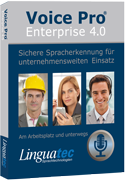 Voice Pro Enterprise 4.0
from 999,- €
No more time-consuming speaker training is necessary, thanks to the speaker-independent recognition technology: Just speak into your device and you will see the transcribed text immediately.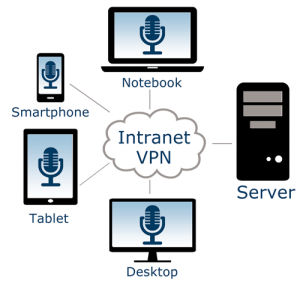 Companies finally have a sophisticated and secure speech recognition solution at their disposal. Regardless of whether you need to create a document at your work station, write an email on the move or dictate a sales report on site: Voice Pro Enterprise 4.0 saves time and helps to make employees more productive.
Voice Pro Enterprise 4.0 results in a noticeable increase in employee efficiency. With Voice Pro Enterprise 4.0 you dictate on average three times faster than you type. The high recognition accuracy minimizes post-processing.