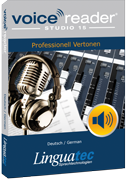 Voice Reader text-to-speech software can convert any text to audio. In an astonishingly natural-sounding quality! Available in 4 versions and 45 languages.
Secure translations for professional requirements: Translation software that saves you 40% of your time. Available in three versions.

Productive speech recognition and transcription solutions with high recognition accuracy.
The long-established bank Donner & Reuschel specializes in private banking with professional advice and manages asse [...]
More News from Linguatec Language Technologies…