Translation Software Personal Translator Net 20
Translating in the company network
Personal Translator Net provides its users with access to the award-winning translation technology of Personal Translator Professional 20 in the company network.
Companies will benefit from the network performance of the single-user version of Personal Translator Professional 20, and their employees will be able to save time and reduce their workload.
The benefits at a glance:
Network solution: Maximum translation functionality accessible via the network
Economical: Contains 5 user licenses in Dynamic Named User Licensing
Team-oriented: Enterprise-wide resource management and increased efficiency
Secure: Translate locally on your PC, not on the Internet
Inexpensive: One price – 7 language pairs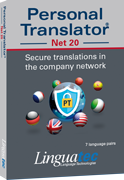 Personal Translator Net 20 (Basic package)
799,- €
Buy now
Price incl. VAT
10 good reasons to choose Personal Translator Net 20
Maximum functional scope:
The basic package of Personal Translator Net 20 contains 5 user licenses that are allocated using the Dynamic Named User model. Each license contains the complete functionality of Personal Translator Professional 20. Another 25,000 text blocks are available for writing business letters. Compatible with 32 and 64 bit processors.
Minimum administration effort:
The MSI installation for the clients minimizes administration and maintenance costs.
Global communication:
Personal Translator Net 20 contains 7 language pairs:
German ↔ English
German ↔ French
English ↔ French
English ↔ Italian
English ↔ Portuguese (BR)
English ↔ Spanish
English ↔ Chinese
Attractive licensing model:
Dynamic user licenses. Any number of client versions can be installed – temporary 30-day licenses are provided for a test run.
Flexible use of notebooks away from the network:
Personal Translator is available for offline use on notebooks. Every time the user logs on to the network, local and central user data are automatically synchronized.
Superior translation quality:
The innovative SmartTranslation technology of Personal Translator ensures reliable translation of business correspondence and challenging technical texts.
Efficient use of dictionaries:
The dictionaries are supplied with more than 4 million entries with explanatory sample sentences. Including the two specialized dictionaries Engineering Technology and Medicine for the language pair German ↔ English. Thanks to centrally managed dictionaries and translation memories, company-specific terminology only has to be entered once to be available to all employees, thus ensuring consistent corporate communication.
High data security:
In contrast to the online translators, your locally installed Personal Translator Net 20 does not represent a security risk.
Great for saving time:
A study by the Fraunhofer Institute has found that using the Personal Translator can help you save over 40 % time.
System Requirements Personal Translator Net 20:
Server
Local network, e.g. Windows Server 2003-2012, Windows Server 2016 (Server with Desktop Experience), Windows 7, Windows 8, Windows 10, Windows Peer-to-Peer
At least 100 MB free disk space for the administration software and at least 2 GB free disk space for the client setup
DVD drive
Client
Windows 7 (SP1 or higher), Windows 8.1 or Windows 10
Pentium processor 1 GHz with 512 MB free RAM
1,5 GB free hard-disk space
Office integration: Microsoft Office 2013 and 2016 (32- and 64-bit))