Price Calculation Personal Translator Net 20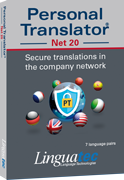 According to the Fraunhofer Institute, using Personal Translator results in a time saving of 40%.
This means that your investment for Personal Translator Net 18 will have paid for itself in four months on average.
Calculate your own ROI (Return on Investment) using the example calculation.
Price List:
Personal Translator Net 20
(contains 7 language pairs)

Basic package (with 5 licenses)

799,- €

Each additional license

99,- €

All prices incl. VAT
Scaled prices and group licenses upon request.
Example price calculation Personal Translator Net 20:
For example, if you want to equip 50 work places with Personal Translator Net 20, you would need:
1 basic package (contains 5 licenses) and 45 additional licenses = 1 × 799,- € + 45 × 99,- € = 5254,- €
Quote on request:
We will be happy to make you a concrete offer and send you more information. For enquiries, please use our contact form.